Today's Option Trading Strategy is simple – we are buying calls. I've never posted two free trades in a row, but this one's too good to pass up. The stock showed up on my OneOption Scanner.
This once high flying tech stock has been trapped in a range for the last 6 months with $35 as the low and $40 as the high. Thursday, it confirmed the $40 breakout and it looks very strong. Long, tight trading ranges yield big breakouts. The stock is trading at a low 1-year forward P/E of 20 compared to its historical valuation. We're in the middle of a wireless craze where new applications are being developed daily. The latest wireless technology – mobile TV. QCOM has taken a decidedly solid lead in the U.S., signing on the nation's two largest carriers, with roughly 120 million subscribers between them. Cingular will use Qualcomm's MediaFLO system and network to offer broadcast mobile TV service to its subscribers later this year while Verizon Communications wireless service is set to launch its VCAST TV service using MediaFLO as early as next month in some markets.
.
.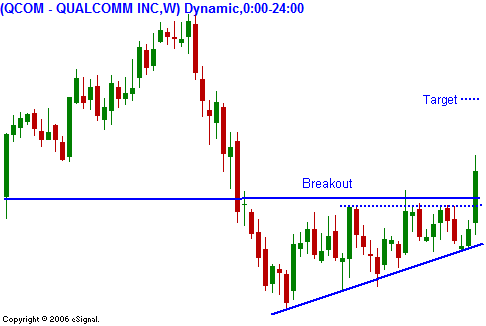 .
.
This is a major breakout and I'll assume the "smart money" has good reason to like the stock here. The volume has been very strong. Friday the stock pulled back with the market and the buyers aggressively came in and snapped up shares. This demonstrates very strong demand.
.
.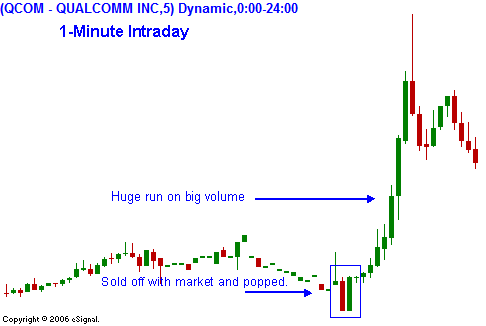 .
.
QCOM has not participated in the rally that started last August. If this stock gets going, it has room to run. I will opt for in-the-money March options. They are relatively inexpensive (as shown in the chart the IVs have come down) and I don't plan on being in the trade for more than a couple of weeks. I want to capitalize on the momentum of the breakout. The market is searching for a new "idea" and this could be it.
.
.

I'm buying the March $40 calls.
Top